Sebuah gambar desain kostum Black Panther mencuat ke dunia maya beberapa saat yang lalu. Desain yang digambar oleh Andy Park ini memperlihatkan sebuah kostum yang tampak berbeda dengan tampilan di Captain America: Civil War dan trailer film solo Black Panther. Kostum alternatif ini lebih menonjolkan warna hitam tanpa ada garis silver dan "kalung" seperti yang dikenal dalam film.
Proyek film Black Panther ditangani oleh sutradara film Creed, Ryan Coogler. Coogler adalah seorang sutradara yang cocok untuk bekerja sama dengan pihak Marvel. Hal itu disebabkan karena dia adalah seorang sutradara dengan bakat luar biasa, ia mampu menggabungkan sisi hiburan dan sisi artistik dengan sukses. Untuk film ini Coogler dibantu oleh Joe Robert Cole dalam menulis naskahnya.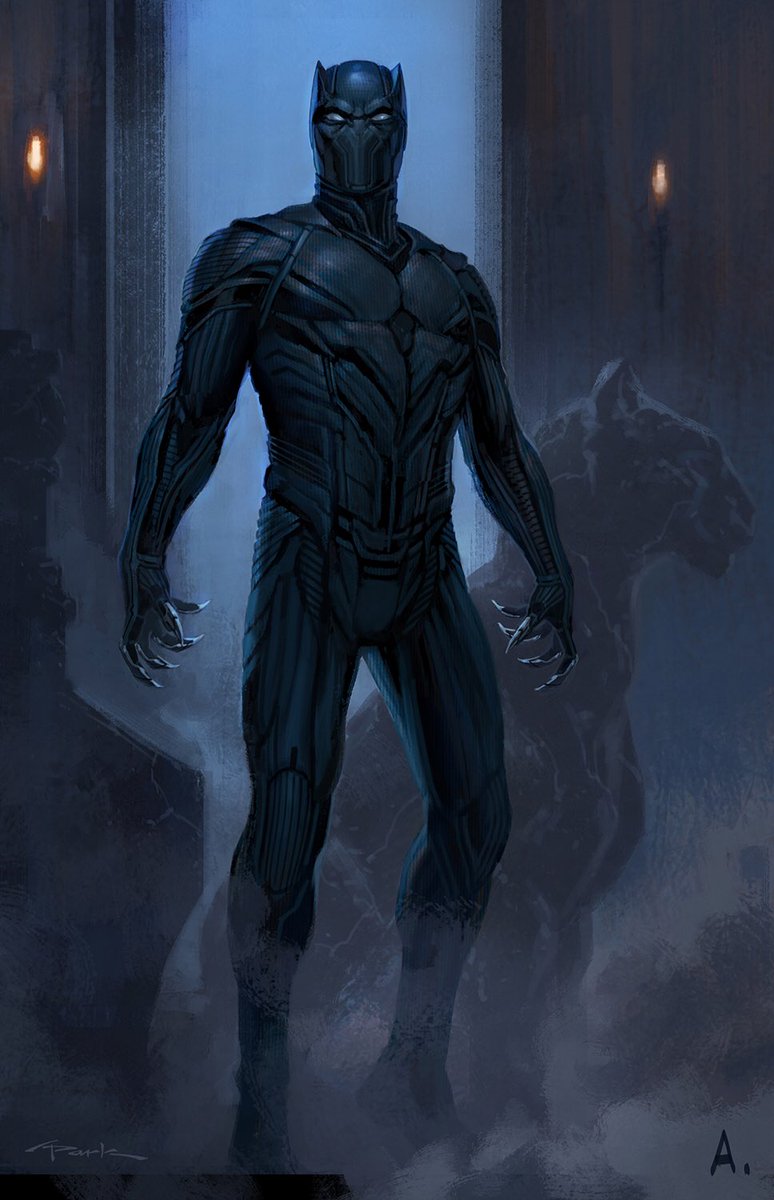 This is an early alternate concept design of #BlackPanther I painted up on #CaptainAmericaCivilWar @chadwickboseman pic.twitter.com/sWMQ2qb5SM

— Andy Park (@andyparkart) June 15, 2017
Baca Juga: Teaser Trailer Black Panther Hadirkan Keindahan Magis Wakanda
Chadwick Boseman akan kembali berperan sebagai seorang raja, superhero dan figur spiritual T'Challa, di tanah leluhurnya Wakanda setelah penampilan memukaunya di Captain America: Civil War. Sejalan dengan dimulainya proses pengambilan gambar film Black Panther, pihak Marvel juga memberkan informasi terbaru mengenai detail sinopsis resmi film ini yang akan menceritakan petualangan T'Challa menghadapi berbagai musuh di Wakanda dari level terendah sampai dengan supervillain.
Selain Bosemen, Black Panther dibintangi oleh Michael B. Jordan (Creed, Fruitvale Station), Lupita Nyong'o (Star Wars: The Force Awakens, 12 Years a Slave), Danai Gurira (The Walking Dead, upcoming All Eyez on Me), Martin Freeman (The Hobbit trilogy, Sherlock), Daniel Kaluuya (Get Out, Sicario), Angela Bassett (American Horror Story, London Has Fallen), Forest Whitaker (Rogue One: A Star Wars Story, Lee Daniels' The Butler), dan Andy Serkis (Avengers: Age of Ultron, Star Wars: The Force Awakens). Serta jajaran cast tambahan lainnya seperti Letitia Wright (Urban Hymn, Glasgow Girls), Winston Duke (Person of Interest, Modern Family), Florence Kasumba (Captain America: Civil War, Emerald City), Sterling K. Brown (Whiskey Tango Foxtrot, The People v. O.J. Simpson: American Crime Story) dan John Kani (Captain America: Civil War, Coriolanus).