Ben 10 dari Cartoon Network akan menguasai seluruh galaksi saat "Ben 10 vs. The Universe: The Movie" , direncanakan akan tayang perdana di seluruh dunia Sabtu, 10 Oktober 2020
Film TV ini akan tersedia bagi para penggemar di seluruh dunia melalui Cartoon Network, HBO, HBO Family, Boomerang, Warner TV dan layanan streaming HBO GO.
Berikut adalah cuplikan dan tampilan khususnya
Sinopsis :
Kegemparan dari masa lalu Ben telah kembali untuk merusak Tim Tennyson dan planet Bumi, hal ini memaksa Ben melakukan perjalanan lintas galaksi untuk menyelamatkan dunia.
Sementara itu, Gwen dan Kakek Max bekerja sama membantu melindungi dunia selama Ben pergi. Di lain sisi,  saat pahlawan cilik kita ini kebingungan menghadapi para penjahat di luar angkasa, Ben juga harus mencari cara untuk kembali ke Bumi dan membantu mereka menyelamatkan dunia.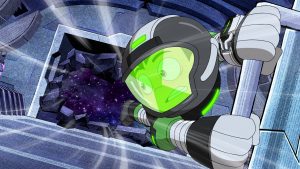 Bagi kamu yang ingin melihat serial TV nya, ada kabar menarik yaitu setiap akhir pekan, Cartoon Network akan menayangkan Ben 10 episode "Power of 10".
Program ini akan dimulai terhitung sejak 12 September 2020, sebelum penayangan film Ben 10 vs. The Universe: The Movie . Episode spesial ini menampilkan beberapa musuh paling kuat Ben 10, termasuk Kevin 11, Steam Smythe, dan Vilgax, alien sang panglima perang antar galaksi.
Serial ini diproduksi oleh Cartoon Network Studios dan diciptakan dan dengan executive producer Man of Action Entertainment (Big Hero 6, Generator Rex), bersama John Fang (Mixels,Generator Rex) sebagai executive producer.